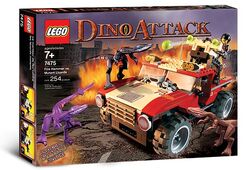 7475 Fire Hammer vs. Mutant Lizards
is a
Dino Attack
set released in
2005
. It includes three
Mutant Lizards
and a
Viper
minifigure.
Description
Edit
The Fire Hammer is larger than would be expected. It has tan and red colouring and includes several stickers, including scratch mark stickers and headlight designs. It has a turret that launches green missiles, but curiously the set comes with only one minifigure; two would be more practical as one would "drive" while the other would "shoot". The Mutant Lizards are all the same shape but in different colours: there is a black one with yellow specks, a purple one with blue specks and a light brown one with yellow specks. Each of the lizards are baring their teeth in an expression like a grin. Their arms and legs have no joints and cannot move. The feet have little holes in them for studs to go into.
LEGO.com Description
Edit
Mutant dinosaurs have taken over a section of the city, but Specs and the Fire Hammer are ready to take it back! The Xenon Multi-Mode Launcher really shoots to bring down the monstrous creatures. Includes Specs and three dinosaur figures. Ages 7+.
Minifigures
Edit